On 31th December of 2019, the World Health Organization (WHO) observed that cases of pneumonia of unknown cause were detected in the city of Wuhan, Hubei Province, China.
One week later, the Chinese government confirmed that they had detected a new virus associated with the pneumonia cases, called Coronavirus (Covid-19). On March 11, 2020, the World Health Organization (WHO) confirmed that Coronavirus (COVID-19) reached a pandemic state since it has been spread worldwide.
According to Worldmeters as of (August 05, 2020) coronavirus cases has reached 18,749,586 and 705,288 deaths worldwide.  Despite countries trying to control the spread of the virus through medical tests, lockdowns and quarantines periods, cases are still increasing.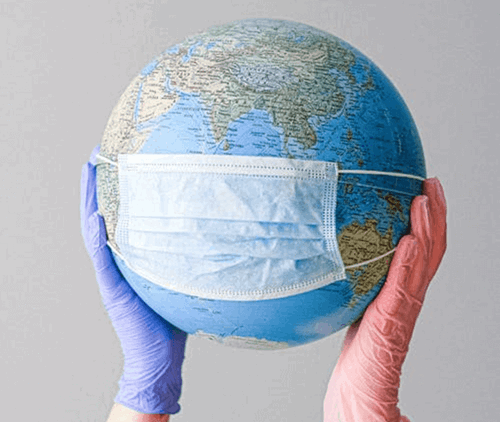 What is coronavirus (Covid-19)?
At Fit2Trip we have contacted the Ministry of Health to share information and offer tips to help and prevent further spread of the virus.
According to the Ministry of Health of the Government of Spain, the new Coronavirus (2019-nCoV) produces clinical conditions ranging from the common cold to more serious diseases such as pneumonia, and in some cases can be fatal. The most serious cases usually occur in elderly people or those who are suffering from other illness, such as heart disease, respiratory or immune conditions.
How can Covid-19 affect travelers?
World Health Organization 2020 (WHO) informed that the outbreak of COVID-19 has impacted countries, in different times, ways and degrees. This virus has been caused national lockdowns and a wide implementation of travel restrictions, making it impossibile for travellers to carry out their dream trips.
However, good news is coming the World Health Organization on 30 of July 2020 has confirmed the trend of a slow but continuous adaptation and responsible restart of international tourism. UNWTO Secretary-General Zurab Pololikashvili said:
"The restart of tourism can be undertaken responsibly and in a way that safeguards public health while also supporting businesses and livelihoods. As destinations continue to ease restrictions on travel, international cooperation is of paramount importance. This way, global tourism can gain people's trust and confidence, essential foundations as we work together to adapt to the new reality we now face."

If I travel, am I at risk?
As Insight guides has assessed, it is important to check travel restrictions from MAE or local authorities before to plan a trip. Furthermore, it is important to buy travel insurance, which will cover you for cancellation and emergency medical expenses for coronavirus.
If you have to cancel your trip because government advice  recommends that you do not travel to the destination you planned, you should be covered by your insurance, but it's required to double check your individual policy and travel restrictions before traveling. If you travel against government advice, you will invalidate your insurance.
Fit 2 Trip, has adapted her policies to cover you in the following situations: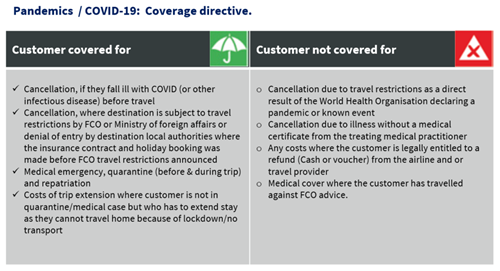 If you would like to find more information regarding Pandemics/ Covid-19 covers click here.
Sanitary recommendations "DURING THE TRIP"
If you decide to travel while Covid-19 outbreak is recommended to keep in mind conventional hygiene measures as:
Use of mask in all public spaces. 
Wash your hands frequently, with soap and water and if not possible with sanitizer.
Avoid direct contact with unknown people, keep in mind social distancing rules.
Sanitary recommendations "AFTER THE TRIP"
Once your trip is over, in the case of developing an acute respiratory illness with fever and cough during the two weeks after your return, you should; seek medical attention informing treating medical professionals of your recent trip and minimize the risk with other partners.
Fit2Trip offers travel insurance for families, couples, individual travellers and people with pre-existing medical conditions such as asthma, cancer, heart disease, and others. You can choose between single health insurance policies or multi-risk policies, in addition to the basic, standard or premium coverage level. You can also choose between single or multi-trip travel insurance, and add summer activities.