There are less tourists, which means there are less queues to visit popular attractions, less traffic, more availability in restaurants, accommodation and tickets to special events and shows, and less tourists in the background of your Instagram pictures.
The flights are cheaper – 24% according to Skyscanner -. North America has the biggest discounts, 32%, followed by Asia and Europe, 27%, South America, 24%, and Oceania and the african continent, 15%.
Accommodation is also cheaper in September – 30% compared to July and August -.
It's not that hot but the weather is still nice and we still have long days.
September is a month of popular festivals all around the world, so it's a good opportunity to get to know new cultures and its traditions.
Where to go?
The high season in Europe is ending, but the weather is still favorable, especially in the Mediterranean countries. In Asia, the monsoon season is ending and, although there is still a risk of typhoons, it is possible to travel to many areas of China or Indonesia without getting soaked. The north of Africa has no longer those scorching temperatures of August, and in Zimbabwe and Namibia they are enjoying their dry winter period, sunny and with pleasant temperatures. The least recommended places to visit in September are the Caribbean, Central America and some areas of Asia, since there is the hurricane season.
Have a look at this map developed by Lastminute which illustrates the countries in high, intermediate and low season in the month of September, to choose your destination depending on your budget and the climate.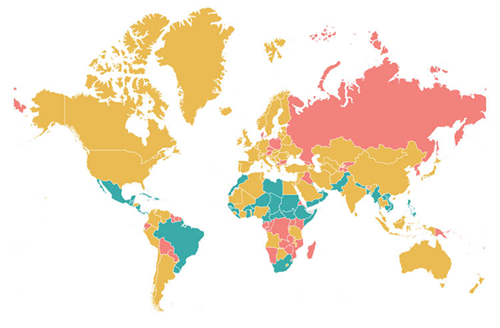 High season (Red): Best climate conditions but also more tourists and higher prices
Intermedium season (Yellow): Changing climate, but less tourists
Low season (Green): less favorable climate (cold or rain), but less tourists and lower prices