At Fit 2 Trip we want to share with you 7 of the most amazing caves in the world. Most of them can be visited, so don't miss the opportunity to explore these wonders of nature!
Son Doong, Vietnam
Son Doong Cave, located in the Quang Binh Province of Vietnam is considered the largest natural cave in the world with 200m in height, 200m in width, at least 8.5km in length! The cave was first found in 1991 by Ho Khanh, a local man and explored and published by a group of scientists from British Cave Research Association in 2009. The first group of tourists explored the cave in August 2013 on a guided tour that cost US$3,000 each. Nowadays permits are required to access the cave and are made available on a limited basis, with 1000 permits available for the 2019 and 2020 season, which runs from February to August.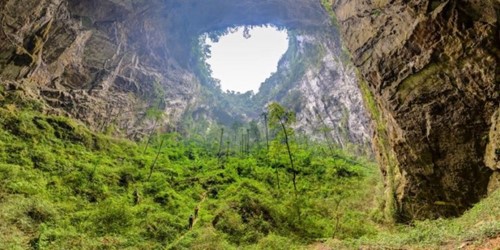 Source: National Geographic
Ice Cave Near The Mutnovsky Volcano, Russia
It was discovered by chance in 2012 by a group of explorers near the Mutnovsky volcano, some 45 miles south of the regional capital of Petropavlovsk-Kamchatsky. The cave was carved out of the glacier by an underground river that is sourced in a hot spring gushing from the Mutnovsky volcano itself. The incredible lights shining purple, blue, green and yellow are are the result of sunlight streaming through the glacial ice into the hidden world below.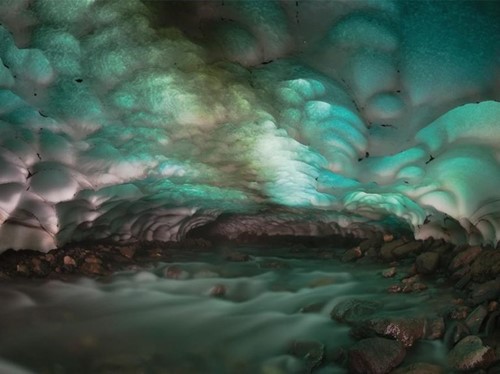 Source: National Geographic
Naica Mine, Mexico
This breathtaking cave situated in Nica, Mexico is estimated to be around 600,000 years old and is filled with over 170 luminous obelisks that are up to 37 ft high, the largest crystals ever seen. The bad news is that it's closed to the public because of its depth, heat and other issues. But you can see amazing pictures of this cave.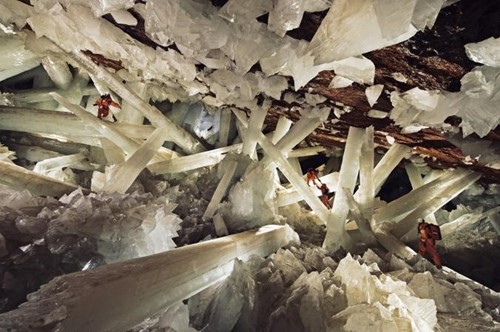 Source: National Geographic
Vatnajokull Glacier Cave, Iceland
This cave is located in Iceland's Vatnajokull Glacier, the largest glacier in Europe. Caves like these form due to melting glacial ice water, which is the reason why they are constantly breaking and changing. If you decide to go you'll need to do it accompanied by a guide. There are a lot of tours available, but you have to book it in advance, because it is a very popular attraction for tourists.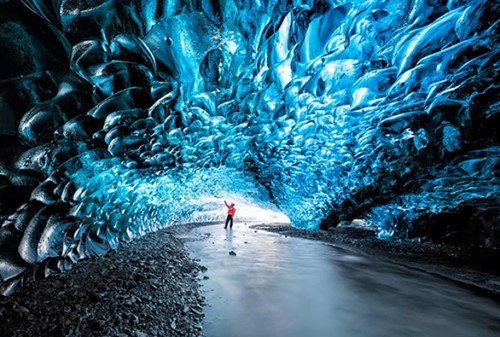 Source: National Geographic
Batu Caves, Malaysia
Rising almost 100 m above the ground, the Batu Caves temple complex consists of three main caves and a few smaller ones. The biggest, referred to as Cathedral Cave or Temple Cave, has a very high ceiling and features ornate Hindu shrines. To reach it, visitors must climb a steep flight of 272 steps. The Batu Caves in Malaysia have been used by English and Chinese settlers as well as the indigenous Temuan people. They're around 400 million years old and now is the focal point of Hindu festival of Thaipusam in Malaysia.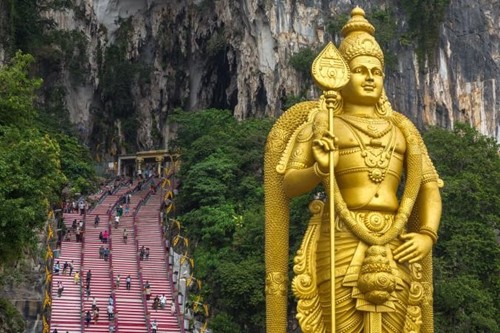 Source: National Geographic
Glowworms Cave, New Zealand
The Waitomo glowworm caves, located on the North of New Zealand are home to the Arachnocampa luminosa, a unique glowworm in New Zeland. This insect hangs on glistening silken strands from the ceiling of the cave and glows to attract unsuspecting prey. There are organised tours that bring the visitor through three different levels and include a boat ride under the glowworms.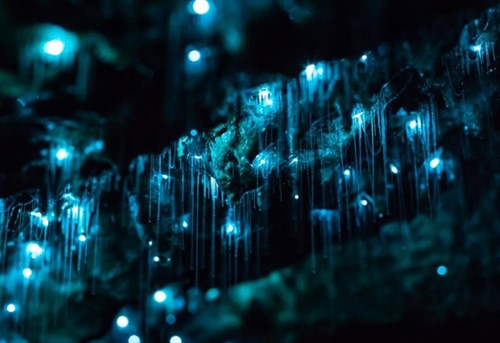 Source: National Geographic
Reed Flute Cave, China
The 240 m long Reed Flute Cave in Guangxi, China has been visited by tourists for at least 1200 years. The cave is home to a spectacular array of stalagmites and stalactites, stone pillars and rock formations created by carbonate deposition. It is named for the reeds that grow at its mouth, which can be made into flutes. You can enter the Reed Flute Cave and then take a U-shaped sight-seeing route to see different spots, which takes about an hour. At the end of the visit you can get some reed flutes as souvenirs!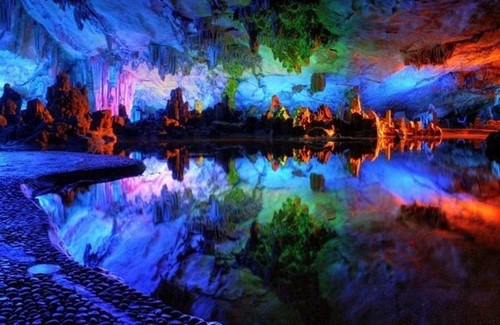 Source: National Geographic